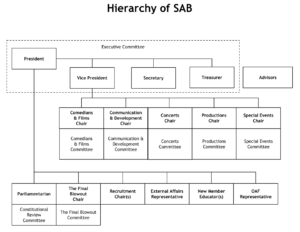 SAB is comprised of six committees that each play a unique roll in bringing entertainment to campus.
SAB is also home to some of the best advisors on campus.

Winston Vanderhoof
Email: ad96@truman.edu
Winston has been involved with SAB since 1979 when, as a super senior, he was selected to be on the Board. He can't remember the selection process, just that he made it on the Board. After graduating and working for 5 years, he came back to Truman. In 1991 he was drafted to be the SAB advisor to help with a situation that had arisen. From what he thought was a temporary appointment has turned into a 20+ year love affair.
---
Michael Facey 
Email: mfacey@truman.edu
Michael's passion for student engagement, and leadership development started during his freshman year when he worked in the Department of Student Activities at Radford University as a student organization coordinator. After earning leadership roles for both his undergrad and graduate institutions as well as for his fraternity, his commitment to becoming a higher education professional was solidified. Michael loves Truman because of its intentionality for the development of students inside and outside of the classroom. It is an awesome community to be a part of and Michael continues to work to make sure the campus provides more inclusive spaces and unique opportunities for all students. As the Program Advisor for Campus Activities, Michael advises SAB, Homecoming Committee, and serves as the direct supervisor for Organization Development and Student Engagement team in the CSI.