La Guerre is an alternative artist from Kansas City, Missouri. She is known for writing her own songs and covering today's top music. You can see La Guerre live on Friday, December 5th at 4pm in the SUB HUB! Free food will be provided. Wear your tackiest holiday sweater to enter SAB's tacky sweater contest!!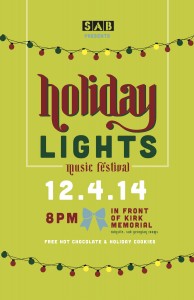 Before you rock out to La Guerre, be sure to stop by Kirk Memorial on Thursday, December 4th. SAB's is hosting our annual Holiday Lights music festival. There will be live music from True Men, Sweet Nothings, and Minor Detail!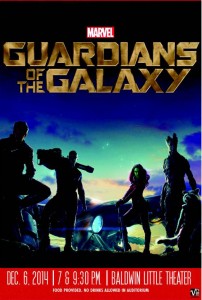 Need one final SAB hurrah before you dive into Finals week? Enjoy the blockbuster Guardians of the Galaxy before it even comes out on DVD! You can see this film on Dec 6 in Baldwin Little Theater. There will be two showings, one at 7pm and one at 9:30pm!